Smith & Nephew 66801304 | ALLEVYN LIFE HEEL, 9″ X 9″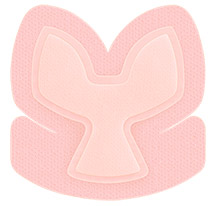 Description
ALLEVYN LIFE HEEL
Smith & Nephew 66801304  |  Size:9″ X 9″ |  Box of 5
Description
ALLEVYN Life Heel has a unique design and is the only heel dressing to provide coverage to the malleolus without the need for secondary retention.
Features
Unique quadrilobed shape with a wide border.
Excellent fluid locking under pressure.
Provides the patient with peace of mind leakage prevention.
ALLEVYN Life's multi-layered design provides cushioning and helps to spread pressure.
Silicone wound contact layer offers minimal pain and discomfort on removal while allowing the dressing to be repositioned.
Change indicator optimizes dressing change frequency and minimizes wastage.
Show More
Show Less
Secure online Payments
30-day easy return policy
Product Support
Pharmacy Accreditation
Shipping Anywhere in the USA