Smith & Nephew 66020016 | PROFORE MULTI-LAYER HIGH COMPRESSION BANDAGING SYSTEM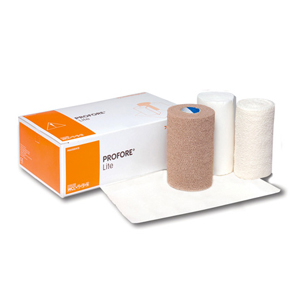 Description
PROFORE MULTI-LAYER HIGH COMPRESSION BANDAGING SYSTEM
Smith & Nephew 66020016  |  Box of 1
Description
PROFORE is a multi layer compression bandage system.
Indications
The multi-layer compression bandage system has been specifically designed for the management of venous leg ulcers and associated conditions. The system pack can be used on patients with ankle circumferences of greater than 18cm or 7¼ inches (padded).
Precautions
Do not use on patients with an ankle brachial pressure index (ABPI) of less than 0.8, or on diabetic patients with advanced small vessel disease.
Should the patient develop pain or pale, cool or numb extremities distal to the dressing, the bandages should be promptly removed. If the patient has a very thin ankle or very prominent tibial crest, extra padding should be applied to these areas to prevent pressure necrosis.
Failure to detect significantly reduced arterial flow can result in pressure necrosis, amputation or even death.
This product has components that contain natural rubber latex which may cause allergic reactions in some individuals.
The risk of arterial as well as venous disease rises with age.
Show More
Show Less
Secure online Payments
30-day easy return policy
Product Support
Pharmacy Accreditation
Shipping Anywhere in the USA