Smith & Nephew 59714300 | COVERSITE COVER DRESSING 6″ X 6″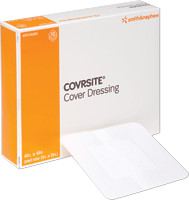 Description
COVERSITE COVER DRESSING
Smith & Nephew 59714300  |  Size: 6″ x 6″  |  Box of 10
Description
COVRSITE Cover Dressing is designed as a secondary cover dressing for gels (i.e., SOLOSITE◊), gel sheets, alginates, wound fillers and non-adhesive foams.
Benefits
Can also be used as an alternative to tape and gauze over central line dressings.
The gentle adhesive is designed so that the dressing can be changed daily.
COVRSITE replaces traditional tape and gauze with a single step dressing.
It is water-resistant, extensible, and conformable.
Indications
COVRSITE Cover Dressing is indicated for the management of acute or chronic wounds.
Show More
Show Less
Secure online Payments
30-day easy return policy
Product Support
Pharmacy Accreditation
Shipping Anywhere in the USA