Smith & Nephew 59484700 | BX/5 – REPLICARE ULTRA ADVANCED HYDROCOLLOID ALGINATE DRESSING 6″ X 6″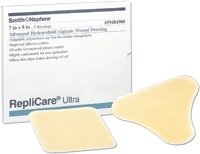 Description
REPLICARE ULTRA ADVANCED HYDROCOLLOID ALGINATE DRESSING
Smith & Nephew 59484700  |  Size: 6″x 6″  |  Box of 5
REPLICARE Thin dressings are hydrocolloid dressings which are designed to create and maintain a moist wound environment by absorbing wound exudate to form a soft gel. The polyurethane film allows excess moisture to transpire through it, thus enhancing the ability of the dressing to manage exudate absorption. A moist wound environment is known to promote granulation tissue and epithelialization in wounds.
REPLICARE is indicated for lightly exuding wounds including partial to full thickness wounds ulcers (venous, arterial, diabetic, and pressure), donor sites, surgical incisions, surgical excisions and burns (first and second degree).
Features:
REPLICARE Ultra's improved design provides better evaporation through an adaptable polyurethane top film that regulates moisture vapor transmission rate. This allows excess moisture to evaporate while maintaining the proper moist wound environment.
The top film is waterproof, easy to clean and aids in the prevention of bacterial contamination.
Unique micro-thin edges and enhanced adhesive offer better adherence, reduced leakage potential and chance of edge roll.
REPLICARE Ultra can remain in place for up to 7 days for convenience, fewer dressing changes and a reduction in nursing costs.
In addition, it is offered in a sacral design to conform to the difficult to dress sacral region.
Indications:
For Healthcare Professional applications, REPLICARE Ultra dressings may be used in Stage I through Stage IV wounds with light to moderate exudate, such as:
Pressure Ulcers
Leg Ulcers
Superficial Burns
Superficial Wounds
Donor Sites
Skin Abrasions
Partial Thickness Burns
Precautions:
During the body's normal healing process, unnecessary material is removed from the wound, which will make the wound appear larger after the first few dressing changes. If the wound continues to get larger after the first few dressing changes, discontinue use and consult a healthcare professional.
Should any signs of irritation (reddening, inflammation), maceration (over-hydration of the skin), hypergranulation (excess tissue) or sensitivity (allergic reactions) appear, discontinue use and consult a healthcare professional.
Do not use product if its packaging is open or damaged prior to use.
REPLICARE Ultra is a single-use product. It should not be re-used.
Do not use product on (1) ulcers resulting from infection, such as tuberculosis, syphilis and deep fungal infections; (2) lesions in patients with acute vasculitis, such as periarteritis nodosa, systemic lupus erythematosus, and cryoglobulinemia; or (3) third degree burns.
REPLICARE Ultra dressing must be removed prior to radiation therapy.
Show More
Show Less
Secure online Payments
30-day easy return policy
Product Support
Pharmacy Accreditation
Shipping Anywhere in the USA