Smith & Nephew 594840 | REPLICARE THIN HYDROCOLLOID DRESSING 2″ X 2-3/4″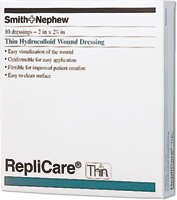 Description
REPLICARE THIN HYDROCOLLOID DRESSING
Smith & Nephew 594840  |  Size: 2″ X 2-3/4″  |  Box of 10
Providing a soothing, moist climate for faster wound healing, the Smith and Nephew Replicare Thin Dressing 2″ X 2-3/4″comes in a convenient size for smaller wounds and ulcers, and is ideal for dressing diabetic ulcers, as well as smaller skin tears, small wounds and abrasions. Lightly exuding wounds will benefit from its absorbent properties, and the dressing is easy to apply and also to remove, so more comfortable for the patient.
Features:
Soothing hydrocolloid dressing gives a moist environment to promote healing.
Absorbent for moderately exuding wounds.
Convenient size for smaller ulcers or wounds.
Protects against infection and contaminants.
Cushions the wound against painful impacts.
Show More
Show Less
Secure online Payments
30-day easy return policy
Product Support
Pharmacy Accreditation
Shipping Anywhere in the USA