Smith & Nephew 4987 | OPSITE TRANSPARENT ADHESIVE DRESSING 11″ X 11-3/4″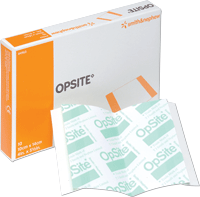 Description
OPSITE TRANSPARENT ADHESIVE DRESSING
Smith & Nephew 4987  |  Size: 11″ X 11-3/4″  |  Box of 10
Description
OPSITE is a transparent, adhesive film. The film is moisture vapor permeable, conformable and extensible. It is widely used to provide a moist wound environment for superficial wounds; it is also ideal for use as a secondary dressing.
Indications
OPSITE is indicated for the management of:
Superficial wounds, such as shallow pressure sores, minor burns, cuts and abrasions.
Use as a secondary dressing, for example over INTRASITE◊ Gel Amorphous Hydrogel Dressing or ALLEVYN◊ Cavity Wound Dressing.
To provide catheter fixation.
Precautions
OPSITE may be used on clinically infected wounds if the following precautions are followed:
The patient should be under medical/clinical supervision
The dressing should be changed daily
The patient should be receiving suitable systemic treatment.
Show More
Show Less
Secure online Payments
30-day easy return policy
Product Support
Pharmacy Accreditation
Shipping Anywhere in the USA