DMR 48220 | ComfortFoam/Ag™ Border Wound Dressing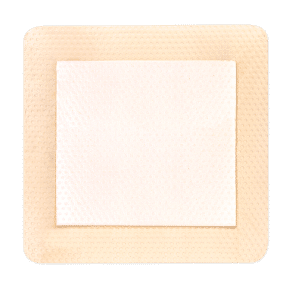 Description
ComfortFoam/Ag™ Border Foam Wound Dressing with Soft Silicone Adhesive and Silver
DMR 48220  |  2″ x 2″  |  Box of 10
ComfortFoam/Ag™ Border is a self-adherent silicone foam island dressing with silver, a vapor permeable waterproof backing, and a soft silicone wound contact surface. ComfortFoam/Ag Border absorbs exudate, maintains a moist wound healing environment and has good antibacterial preservative properties.
ComfortFoam/Ag Border foam dressing consists of 0.25~0.35mg/cm2 of silver ions that demonstrate in vitro antibacterial preservative effectiveness within the dressing for up to 7 days. The silicone adhesive sticks to surrounding skin but not to the wound bed, minimizing pain and the risk of damage to the wound area.
BENEFITS:
Silicone adhesive is gentle to both wound bed and skin for safe, easy removal
Showerproof and prevents exudate leakage
Absorbs exudate while minimizing the risk of maceration
Supports moist wound healing
Provides thermal insulation and protection
Silver helps to reduce bacterial colonization in the dressing
Low profile border for adhesion and flexibility
Can be safely worn for several days, depending on wound condition and exudate levels
INDICATIONS:
For the management of exuding wounds, including:
Leg and foot ulcers
Pressure ulcers
Traumatic and surgical wounds
Superficial and partial thickness burns.
Show More
Show Less
Secure online Payments
30-day easy return policy
Product Support
Pharmacy Accreditation
Shipping Anywhere in the USA