DMR 00550E | SilverDerm 7® Antimicrobial Wound Contact Silver Dressing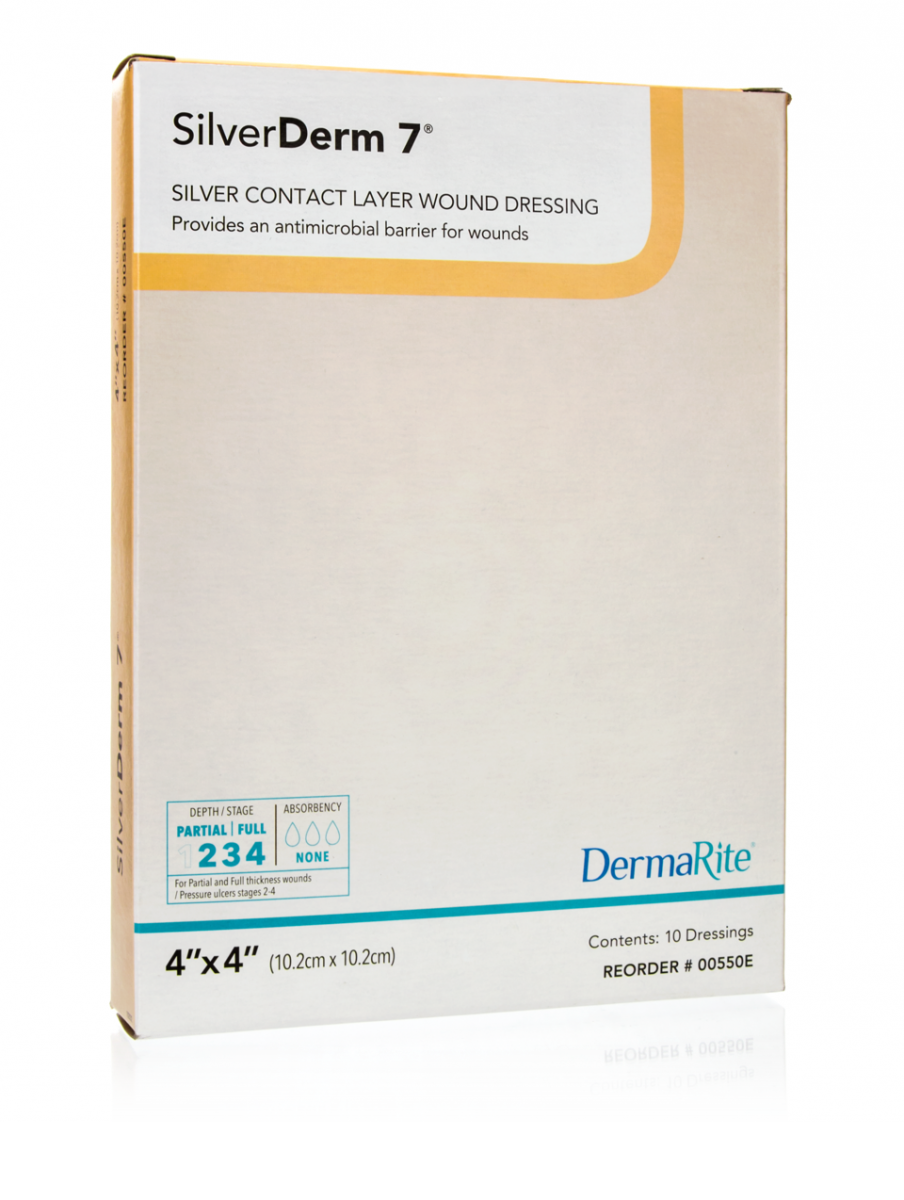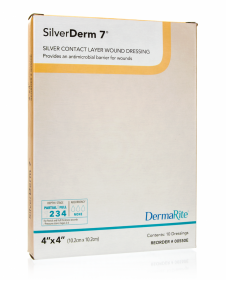 Description
SilverDerm 7® Antimicrobial Wound Contact Silver Dressing
DMR 00550E  |  4″ x 4″  |  Box of 10
SilverDerm 7® Antimicrobial Wound Contact Silver Dressings are sterile, porous, non-adherent, knitted nylon dressings plated with approximately 99% elemental silver and 1% silver oxide. SilverDerm 7 delivers antimicrobial silver ions in the dressing when activated by moisture. The silver ions kill wound bacteria held in the dressing and provides an antimicrobial barrier from bacterial penetration which may help reduce infection.
BENEFITS:
Kills wound bacteria in the dressing.
Control of wound bacteria may reduce the risk of wound infection.
Reduces pain during dressing changes.
May be used for up to 7 days.
INDICATIONS:
For the management of infected and/or painful partial and full thickness wounds, including:
Traumatic wounds
Surgical wounds
Donor and graft sites
Incisions
Stage I-IV dermal ulcers (vascular, venous, pressure, and diabetic)
1st and 2nd degree burns
Orthopedic external pin sites
Vascular access or peripheral IV sites
Wound drain sites
Show More
Show Less
Secure online Payments
30-day easy return policy
Product Support
Pharmacy Accreditation
Shipping Anywhere in the USA