DMR 00292E | DermaFoam™ Waterproof Dressing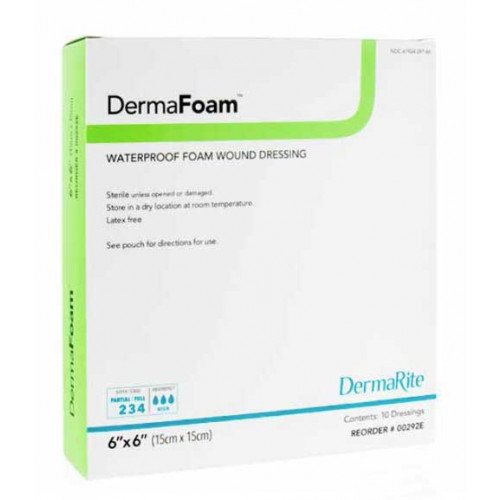 Description
DermaFoam™ Waterproof Wound Dressing
DMR 00292E  |  6″ x 6″  |  Box of 10
DermaFoam is a highly absorbent, waterproof sterile foam dressing suitable for moderate to highly exudating wounds. Foam is bonded to a semi-permeable polyurethane outer film that allows the wound to breathe while maintaining an ideal moist wound environment. The outer layer also helps prevent bacterial contamination. Conforms easily to awkward-to-dress areas. Protects and cushions the wound.
Supports moist wound healing and autolytic debridement
Excellent exudate management to minimize maceration
Supports normalization of wound bed temperature
Absorption, support and cushioning help manage
hypergranulation tissue
Not made with natural rubber latex
A primary dressing that may be used for the management of acute or chronic partial and full thickness wounds/ulcers with moderate to heavy exudate.
Show More
Show Less
Secure online Payments
30-day easy return policy
Product Support
Pharmacy Accreditation
Shipping Anywhere in the USA