Coloplast 12262 | SenSura Mio Flex Drainable Pouch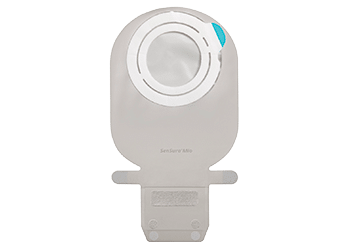 Description
SenSura® Mio Flex Drainable Pouch with Filter
Coloplast 12262 | Pouch size: Maxi 28 cm (11″) | Opaque | Flange size: 35 mm (1 3/8") | Wide Outlet | Box of 10
SenSura Mio is a new range of ostomy products that fits individual body shapes due to the elastic adhesive and stays discreet due to the neutral-grey textile material.
Elastic adhesive for a secure fit to individual body shapes
Neutral grey textile for optimal discretion and an honest look
Full-circle filter for proven reduction of ballooning
New Click coupling for reassurance and feeling of security
The SenSura Mio Flex drainable pouch is separate from the baseplate, so the pouch can be changed without changing the baseplate. The pouch is coupled to the baseplate by means of the well-known Flex coupling which is a secure coupling system that is flat, discreet and flexible enough to adapt to body contours. SenSura Mio Flex is available in a broad range of flat baseplates consisting of various pre-cut or cut-to-fit sizes which can be customized, and with transparent or neutral grey pouches in a variety of sizes, or even with an inspection window, and coupling systems of 35, 50, or 70 mm in diameter.
Show More
Show Less
Secure online Payments
30-day easy return policy
Product Support
Pharmacy Accreditation
Shipping Anywhere in the USA