Coloplast 14176 | Assura Convex Deep 1-Piece Drainable Pouch | Maxi | Opaque | Pre-Cut 31mm | Box of 10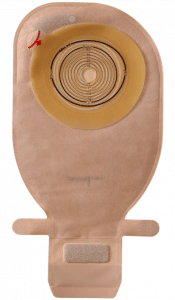 Out of stock
Want to be notified when this product is back in stock?
Description
Assura® Convex Deep 1-Piece Drainable Pouch
Coloplast 14176  |  Box of 10
Spiral adhesive for security and skin-friendliness. Assura 1-piece drainable combines a unique spiral adhesive with a comfortable and discreet pouch.
HCPCS: A4389
Pouch size: Maxi ( 11 1⁄4″ – 530 ml)
Stoma size: 31 mm ( 1 1⁄4″ )
Opening Type: Pre-cut
Color: Opaque
Belt tab: Yes
Baseplate Type: Deep Convex
Barrier Type: Standard
With Assura 1-piece drainable, the adhesive barrier is permanently attached to the pouch. To change the pouch, the whole appliance is removed and replaced at once.
Assura 1-piece drainable appliances are available with flat, convex light, or convex adhesive barriers. The full line includes transparent and opaque pouches with barriers that are pre-cut (already cut to size) or "cut-to-fit" (meaning they can be cut to achieve a custom fit).
Spiral adhesive, for security and skin-friendliness
The Assura spiral adhesive is a combination of materials designed for security and protection in a spiral structure, for:
Secure adherence to your skin
Absorption of moisture from your skin – providing skin-friendliness and protection from irritation
A comfortable and discreet pouch
Assura 1-piece drainable has a range of features designed to offer comfort and discretion:
EasiClose™outlet – the outlet is easy to empty and clean, and has an integrated Velcro® closure that can be easily tucked away – without the need for a closure clamp.
Efficient filter – the integrated three-layer filter neutralizes odor and avoids the risk of the pouch "ballooning," causing unnecessary bulges.
Soft backing fabric – strong and water-repellent, allowing for easy drying after a shower or a dip in the pool.
Convexity for stomas that are difficult to manage
Assura 1-piece drainable is available with two different levels of convexity, designed to help a stoma that is difficult to manage: for example, a stoma that is flush, retracted, or located in a skin fold. It applies pressure on the peristomal skin to reduce the risk of leakage by allowing the stoma to protrude.
Convex: A solution for retracted stomas and deep skin folds and scars, providing extra security through moderate to high pressure on the abdomen. Ask your ostomy nurse for more information about convexity.
Show More
Show Less
Secure online Payments
30-day easy return policy
Product Support
Pharmacy Accreditation
Shipping Anywhere in the USA