Smith & Nephew 66000806 | ALLEVYN PLUS ADHESIVE HYDROCELLULAR DRESSING 7″ X 7″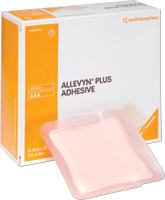 Description
ALLEVYN PLUS ADHESIVE HYDROCELLULAR DRESSING
Smith & Nephew 66000806 |  Size: 7″ X 7″  |  Box of 10
Description
ALLEVYN Plus Adhesive hydro cellular dressings have a unique trilaminate structure made up from a wound contact layer, a soft and highly absorbent central hydro cellular layer, and an outer film layer, which is both bacteria proof and waterproof. ALLEVYN Plus Adhesive dressings employ all the proven benefits of moist wound healing, without any breakdown of the dressing caused by contact with exudates. The result is effective exudate management of these wounds, which have traditionally proved difficult to care for.
Features
Low allergy adhesive
Tapered construction with micro-thin edges
Unique trilaminate structure
Absorbs 65% more exudate than ALLEVYN Adhesive
Perforated wound contact layer
Highly absorbent central hydro cellular layer
Waterproof outer film layer
Full range of sizes


Indications

ALLEVYN Plus Adhesive is indicated for high to extra high levels of exudate absorption and the management of chronic, acute, full, or partial thickness, or shallow granulating, exuding wounds. Some typical wounds are ulcers (venous, arterial, diabetic), pressure sores, donor sites, surgical incisions, surgical excisions and burns (1st and 2nd degree).
Can be used in conjunction with INTRASITE Gel for necrotic or sloughy wounds.
Creation and maintenance of a moist wound environment. Moist wound environments have been established as optimal environments for the management of the wound.
Provides physical separation between the wound and external environments to assist in preventing bacterial contamination of the wound.

Precautions

Do not use any ALLEVYN product with oxidizing agents such as hypochlorite solutions (e.g. Dakins) or hydrogen peroxide, as these can break down the absorbent polyurethane component of the dressings.
As with all adhesive products, some cases of irritation and/or maceration of the skin surrounding the wound have been reported. It should be noted that too frequent dressing changes, particularly on patients with fragile skin, may result in skin stripping.
If reddening or sensitization occurs, discontinue use and consult a healthcare professional.
ALLEVYN Plus Adhesive is not indicated for use on third degree burns.
Show More
Show Less
Secure online Payments
30-day easy return policy
Product Support
Pharmacy Accreditation
Shipping Anywhere in the USA