3M 1555 | Steri-Strip Skin Closures Stacking Rack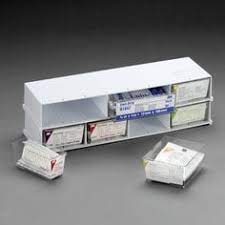 Description
Steri-Strip Skin Closures Stacking Rack
3M 1555  |  EA/1
Description
3M  Steri-Strip™ Skin Closure Stacking Trays are used for organizing and storing a variety of 3M™ Steri-Strip™Skin Closure product styles and sizes.
Find the exact closure you need – when you need it! Handy stacking trays are designed to keep various styles and sizes of 3M™ Steri Strip™ Closures neat and organized.
Suggested Applications
Storing 3M™ Steri-Strip™ Skin Closures
Show More
Show Less
Secure online Payments
30-day easy return policy
Product Support
Pharmacy Accreditation
Proudly Canadian!